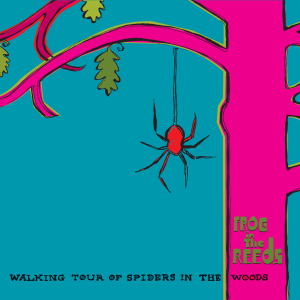 Walking Tour of Spiders in the Woods
by Frog in the Reeds
In 2013, I had the great pleasure and privilege of releasing an album on Great Comfort Records. It was an immense joy to work with several talented musicians and creative minds. You can listen to and purchase this album song by song or in full on Bandcamp.com, or download a free single and buy the CD through Great Comfort Records. Also available digitally at your favorite digital distribution center, such as iTunes or amazon.com.
From Great Comfort Records:
Walking Tour of Spiders in the Woods, the debut album of Frog In the Reeds (songwriter/guitarist/vocalist Mary Brewer), is a prayer uttered in quiet seclusion amongst gentle guitars and softly moaning strings. It is a vehement shout, a flowering shoot of declaration. 

Brewer is the product of an upbringing in the wooded hills of Pennsylvania, and a soundtrack of frog calls in a nearby pond, thunder, lowing cows, and the hum of a racetrack on weekend nights. She was influenced by a steady diet of pierogies, seventies classic rock, church hymns, Dukes of Hazzard and Johnny Mathis. Such are the diverse shaping forces felt in her music. Indeed, no single musical classification could tie up this extraordinary collection, but her voice, utterly unique and compelling, binds the bundle effortlessly.

Brewer describes Walking Tour as "…the most difficult and exhilarating painting I've ever painted". Quite. It is a journey of intimacy and sweep, of relaxed authority and unbridled curiosity. Joined by the masterful production skills of Daniel Smith and a merry crew of musician friends on upright bass, flute, drums, tuba, voice, and percussion, Walking Tour of Spiders in the Woods is a joyous march, a poem, a piece of a dream or an exposed inner thought…some sing-alongs, some listening songs, each revealing or communicating with the One who makes all things new.
All songs on this album are original compositions by me except for "Hush" which was co-written with Rachel Galloway of Danielson, and "Possiamo Campeggiare Ai Toui Piedi", an Italian interpretation of the song "Can We Camp at Your Feet", by Daniel Smith of Danielson.